Spine Surgery Advancements Improve Quality of Life for Cancer Patients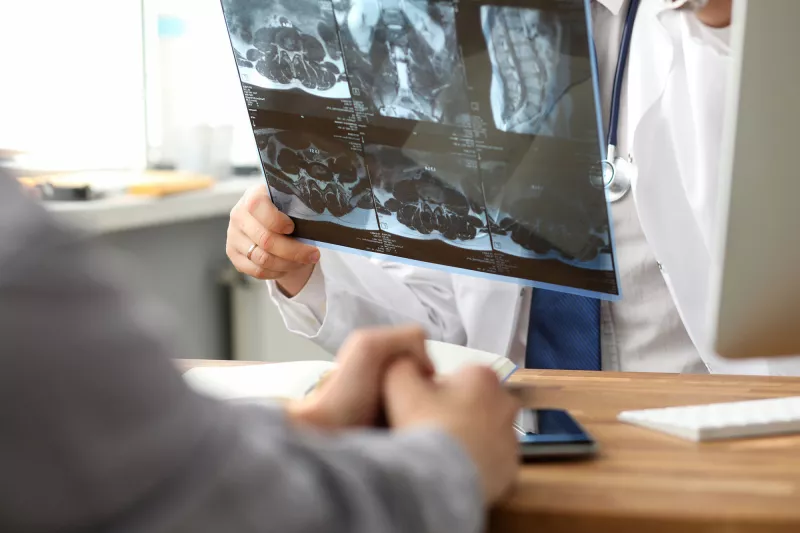 Choose the health content that's right for you, and get it delivered right in your inbox
New technology is helping to ease pain, enable better follow-up after surgery and allow for enhanced radiation oncology treatment for cancer patients. AdventHealth Neurosurgeon Roland A. Torres, MD performed the first spine surgery at AdventHealth, and in the greater Orlando area, using carbon fiber screws, rather than metal screws, during a spinal fusion procedure.
Carbon Fiber Technology
Carbon fiber material, known for its lightweight strength (used for spacecrafts and by the Formula 1 racing industry), is now available for spinal cancer patients. During a traditional spinal fusion procedure, a surgeon would likely use metal screws to hold the bones in place while they fuse together. However, metal screws obstruct the view on a patient's scan, causing disturbances to X-ray, MRI and CT scans. Metal screws can also sometimes irritate other tissues, such as the nerves or the spinal cord, requiring a second surgery.
Now, thanks to new technology using materials made up of carbon fiber, Dr. Torres and other neurosurgeons are able to perform spinal surgeries with carbon fiber screws instead of metal. Currently, this type of procedure with carbon fiber screws is only approved by the Food and Drug Administration (FDA) for use in cancer patients, but it is a big step forward when it comes to a patient's recovery and enables more treatment options.
"When a patient has a tumor on their spine, the spine can become very weak," explains Dr. Torres. "The screws made of carbon fiber provide bone-like strength and stability compared to metal screws, so the spine becomes better stabilized." This new technology offers various advantages over standard metal implants, providing patients with the latest technology to have the best fighting chance against their cancer.
In addition to providing greater stability, the carbon fiber screws can help physicians to better monitor the patient's condition after surgery, since they will have clearer imaging. Metal screws are known to leave obstructions in the view of scans, whereas carbon fiber is practically invisible, allowing physicians and patients to have a clear view of the treated area.
AdventHealth Spine Center
Dr. Torres' brings years of experience and expertise in fusion procedure advancements to be able to perform this first of its kind procedure in greater Orlando. We're excited to now be providing this quality-of-life improvement for cancer patients. To learn more about our spine care services, click here.