AdventHealth Orlando's Center of Excellence for Inflammatory Bowel Disease Takes Multidisciplinary Approach to Treating Intestinal Failure, Offering Patients New Hope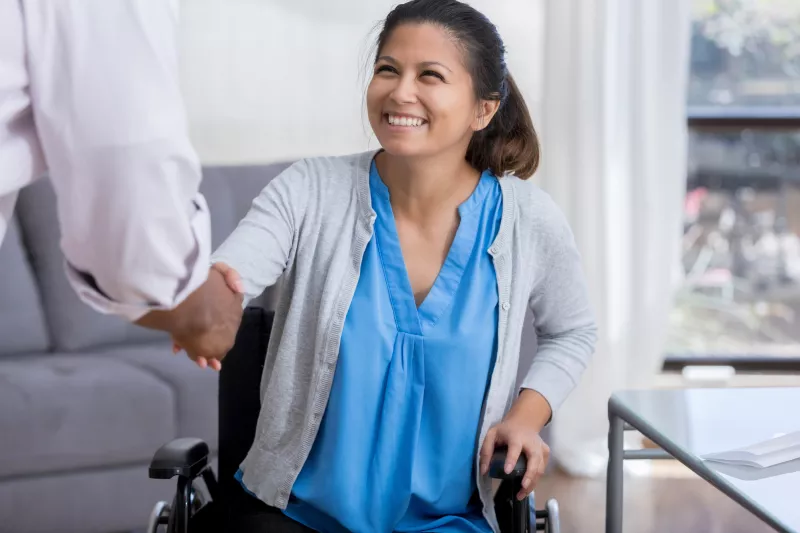 Choose the health content that's right for you, and get it delivered right in your inbox
As part of its Center of Excellence for Inflammatory Bowel Disease, AdventHealth Orlando has worked under the leadership of board-certified colorectal surgeon John Monson, MD, to assemble a specialized, multidisciplinary team to care for patients suffering from intestinal failure.
A condition where the body's gastrointestinal system can no longer absorb the water, nutrients and electrolytes it needs, intestinal failure can be a devastating diagnosis and is a serious complication of other gastrointestinal conditions such as inflammatory bowel disease, Crohn's disease, ulcerative colitis, short-bowel syndrome and intestinal dysmotility. It frequently results from previous failed colorectal surgeries. Patients suffering from intestinal failure require intravenous (IV) nutrition supplementation or replacement. Although a relatively rare condition, intestinal failure carries a significant negative impact both economically and in terms of a patient's quality of life.
Caring for Catastrophic Intestinal Failure Patients
In the most catastrophic cases of intestinal failure, patients have endured multiple operations – some as many as 50 – with negative results. They have developed enterocutaneous fistulae, abnormal connections between their intestinal tract or stomach and their skin. These fistulae, which most often occur after bowel surgery, cause the content of the stomach or intestine to leak through to the skin. Many of these patients also suffer from complex wounds. They become total parenteral nutrition (TPN) dependent, requiring that they receive all of their nutrition through an IV.
The complex challenges of fistulae, wounds and TPN leave catastrophic intestinal failure patients homebound, bedbound or even hospitalized for months at a time. As a result, many become socially isolated — no longer able to work or participate in most daily life activities. Many of these patients are young and feel as if their lives are ruined with no prospect of improvement.
"These are some of the sickest patients, and they simply want their lives back," explains Dr. Monson. "Their cases are so complex that no one else wants to take them on. We have assembled a small but specialized, multidisciplinary team of experienced physicians and healthcare care providers who will. Our focus is on slowly guiding them toward their next surgery and making sure that this will be the one that hopefully fixes the nightmare of their last few months or years. There is no one-size-fits-all approach to caring for these patients. Each one has unique challenges that require unique solutions."
The Approach
AdventHealth's multidisciplinary team for intestinal failure patients includes:
Gastroenterologists
Colorectal surgeons
Specialized nurses, including wound care and STOMA nurses
Nutritionists
Pain medicine specialists
Psychologists
The team meets regularly to collaborate and discuss each case to achieve the best possible outcome.
While intestinal failure patients are anxious for answers and solutions, there is no quick fix. When an intestinal failure patient first comes to AdventHealth, the care team conducts a thorough evaluation and creates a long-term, customized care plan that may last two to three years. Most intestinal failure patients will require surgery, but that is not the first step. Because these patients have had so many prior surgeries, the focus for the first six months to a year is allowing their bodies to heal so that surgery is successful when it's performed again.
"We call this a time out," explains Dr. Monson. "This can be devastating for patients to hear at first because they are anxious to move forward, but we assure them that we're committed to their health and helping them get their life back."
During this time, the emphasis is on maintaining adequate nutrition, preventing infection and allowing the patient to regain strength before another surgery.
"When we go in to perform re-operative surgery, we want to get the operation right the first time," says Dr. Monson. "From day one, we let them know that we will do what it takes to help them. The buck stops here, and no one on this team is giving up on them."
The team also works to develop close relationships with the patients and their families and caregivers, letting them know that they are the most important members of the team.
Specialized Care
Caring for patients with intestinal failure requires not only maintaining proper nutrition and managing the underlying condition that caused intestinal failure, but also managing and preventing additional complications including fistulas and stomas/ostomies.
A fistula occurs when an abnormal connection forms between part of the gastrointestinal tract and the skin or another organ, causing stomach acid to leak. There are a number of different kinds, including colocutaneous fistula, enteroatmospheric fistula, intestinal fistula and bowel fistula. They can result from surgery, infection or inflammatory bowel diseases such as Crohn's disease.
"Caring for these complex wounds can be one of the most frustrating and devastating things for patients with intestinal failure," explains Dr. Monson. "We have specialized nurses who work with our intestinal failure patients on both an inpatient and outpatient basis to help them regain some control."
Wound, ostomy and continence (WOC) nurse Theresa Pineda, BSN, RN, CWOCN, is a specialized member of the AdventHealth multidisciplinary team that cares for intestinal failure patients on both an inpatient and outpatient basis, working closely with Dr. Monson. Like fistula care, ostomy care creates long-term challenges for these patients. An ostomy is a surgically created opening in the body that allows stool to pass from the intestine. Pineda provides customized, complex ostomy care as well as education for patients to help them begin to regain independence and prevent re-hospitalization.
"No one wants to remain in the hospital or debilitated," explains Pineda. "Our goal is always to provide them with timely care and support to get them back to their family, their community and their life. We work with each intestinal failure patient to devise a specific pouching strategy that works for them based on their specific symptoms and situation. And we tweak it until it is right."
In addition, if patients do not want to pursue surgery, the AdventHealth team also offers access to promising new treatments through a number of clinical trials.
Whole-Person Care
The intestinal failure care team takes to heart the AdventHealth mission of making patients feel whole again — in body, mind and spirit.
"No doubt these are very complex and challenging patients," explains Pineda. "But no matter how challenging they can be from our view, nothing compares to how challenging, even devastating, life can be for them. That is a constant reminder to us and why we work so hard to stay connected and committed to their care."
Dr. Monson agrees. "Our distinct competences and specialized skill sets allow us to take on patients and challenges that others can't or won't," he says. "These patients may be the most challenging, but they are also the most gratifying."
Looking ahead, the intestinal failure care team hopes to grow the program and extend its reach by attracting the best physicians and personnel and conducting research on the most effective treatment protocols to continue strengthening this program for the benefit of our patients.
Additional Background
John Monson, MD, serves as AdventHealth's Executive Medical Director of Colorectal Surgery. He is a Fellow of the American Society of Colon and Rectal Surgeons and served on their Executive Council. He also serves on the Commission on Cancer (CoC) and as Vice-President of the Research Committee and Vice-President of the OSTRiCh Consortium on Rectal Cancer Care.
Dr. Monson is fellowship trained in colon and rectal surgery, surgical oncology, and vascular surgery. Prior to joining AdventHealth, he led the development of laparoscopic colorectal surgery in the United Kingdom and is a former Chair of the U.K.'s National Training Program where he worked extensively on the development of national standards and qualitative assessments of decision-making in cancer care.
AdventHealth is recognized by U.S. News & World Report as one of America's best hospitals for gastroenterology and gastrointestinal surgery. We are also recognized as one of America's highest-rated hospitals for patient safety by The Leapfrog Group.