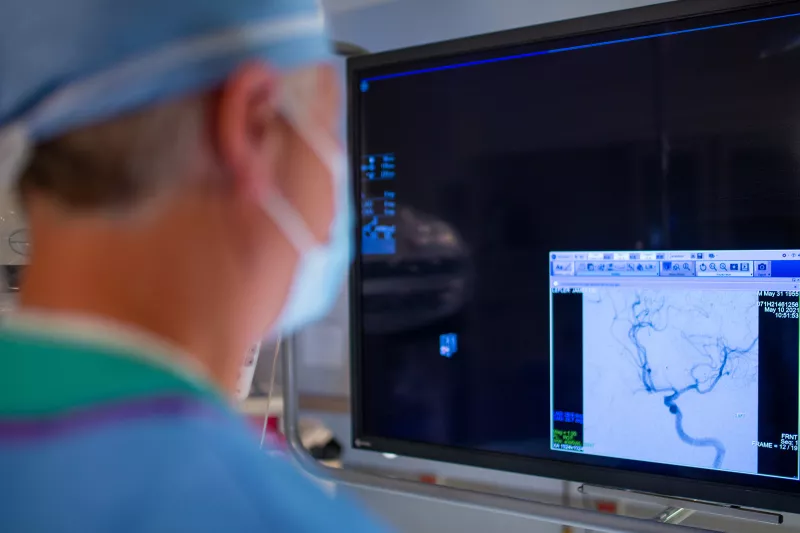 Innovation for Better Outcomes
Because fewer risks lead to faster recoveries, we use the most innovative techniques available for brain tumor embolization, head and neck tumor embolization and neck tumor removal.
For patients with head and neck tumors, embolization can reduce brain tumor removal surgery risks, including the risk of bleeding during surgery. That's why our surgeons use embolization to cut off the blood supply to a tumor. Done on its own or before surgery, cutting off blood supply to cancerous tumors (and noncancerous ones, too) can help ensure safer and better outcomes.
At each step of this process, our team will be by your side to answer your questions and ease your mind.
Understanding Tumor Embolization
2 items. To interact with these items, press Control-Option-Shift-Right Arrow
What Is Tumor Embolization?
---
Tumor Embolization, From Diagnosis to Recovery
Before
Embolization is a minimally invasive procedure — even for head, neck or brain tumors. It requires the work of a highly trained specialist and is usually performed by an neurointerventional radiologists.
Before your embolization, you'll have a series of diagnostic tests that pinpoint the exact location of the blood vessels that are flowing into the tumor. A cerebral or spinal angiogram maps the blood vessels using contrast dye and an X-ray. Your doctor will use this map to determine if the blood supply to the tumor is large enough to make embolization a worthwhile treatment.
During
During embolization, a small incision is made (usually in your groin area) and a catheter is threaded through your body and up to the tumor in your head, neck or brain — all guided by an X-ray to ensure accuracy.
Once the catheter reaches the location of your tumor, your neurointerventional radiologist will block the flow of blood by inserting a blocking agent into your blood vessels. This blocking agent may be referred to as a coil, glue, plug or balloon.
Since we're able to access the area without making a large incision, you won't have the risks typically associated with open surgery.
After
Most people return home after an embolization procedure within 24 to 48 hours. You can expect the incision site to be sore for several days.
Your doctor will monitor your embolization closely to ensure the procedure stopped the blood supply to the tumor. Several months after the procedure, imaging scans will reveal whether or not your tumor shrunk.