How Your OB/GYN Can Help Protect Your Heart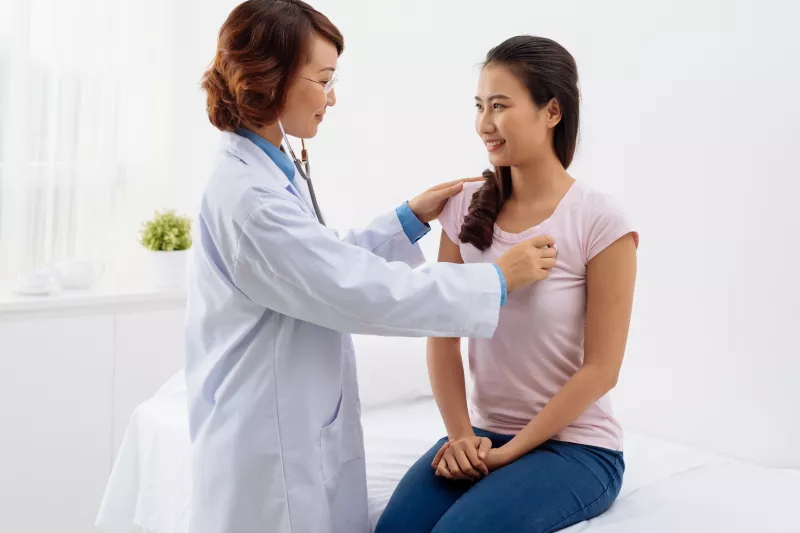 Choose the health content that's right for you, and get it delivered right in your inbox
Did you know that heart disease is the number one killer of women? In fact, it kills more women than all types of cancer combined.
If this is news to you, rest assured — you're not alone. Research shows only 45 percent of women know that heart disease is their leading cause of death.
More women need to receive the care they need to help keep heart disease at bay. So the American Heart Association and the American College of Obstetricians and Gynecologists recently issued a joint advisory encouraging OB/GYNs to screen and counsel women about heart health during annual well-women exams.
Some heart disease risk factors, like age and family history, are beyond our control. But learning about ways to lower your risk can help you take control over your health, benefitting your body, mind and spirit.
Teaming up with your OB/GYN to assess and treat any heart disease risk factors you may have could protect your ticker for many years to come.
Putting Women's Health First
Many women think of their OB/GYN as their primary care provider, especially during their childbearing years. According to the advisory, OB/GYNs should use the annual well-woman exam as an opportunity to provide a heart-health screening. This includes:
Taking a thorough family history.

Screening for heart disease risk factors such as smoking, high blood pressure, diabetes, and abnormal cholesterol levels.

Counseling women about healthy lifestyle changes, such as improving their diet and increasing their physical activity, if needed.
OB/GYNs are also a key resource for protecting women's heart health because there are several heart disease risk factors that are unique to women. They include:
Pregnancy complications such as preeclampsia, gestational diabetes, gestational hypertension, preterm delivery and having a low birth weight baby.

Polycystic ovary syndrome, a hormonal condition that causes the ovaries to develop small collections of fluid. They may not regularly release eggs.

Autoimmune disorders (in which the immune system mistakenly attacks its own body) that occur more often in women, such as rheumatoid arthritis (an inflammatory disease affecting the joints).

Breast cancer treatments, as common medications to treat cancer can damage the heart.
Along with traditional risk factors, it's crucial for health care providers to consider these factors, too, in order to gain a more comprehensive assessment of your heart health. This information may also guide their decisions about treatments they recommend, such as using medications to manage blood pressure or prevent blood clots.
Talk with Your Doctor
Even if you feel healthy today, you could still be at risk for heart disease. It's estimated that 90 percent of women have at least one risk factor for heart disease.
During your next visit with your family doctor or OB/GYN, be sure to ask about your heart health. Find out whether you have any risk factors and what you can start doing to control them. Partnering with your health care provider to protect your heart health can mean a longer, healthier life.
AdventHealth for Women wants to be that health partner. Seeing an AdventHealth OB/GYN opens doors for women to receive the best preventive care and state-of-the-art treatment.
To schedule an appointment with an OBGYN, visit our website or call Call813-536-1623 ; to schedule an appointment with a Cardiologist, visit our website or call Call813-536-1629.